Articles in press have been peer-reviewed and accepted, which are not yet assigned to volumes /issues, but are citable by Digital Object Identifier (DOI).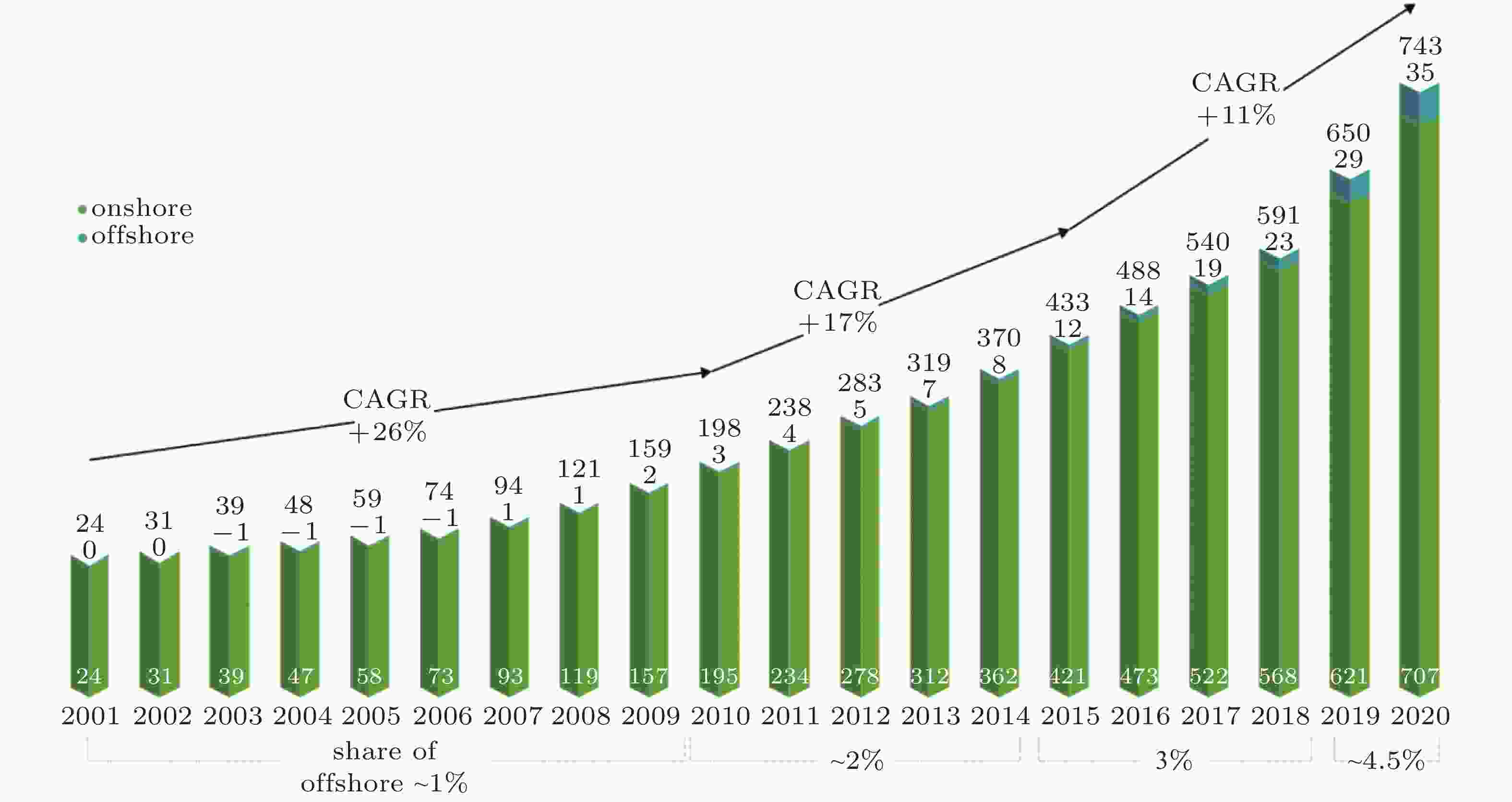 Abstract:
Wind power is one of the essential branches of renewable energy resources, and it is playing an important role in innovating energy systems and mitigating global climate change. After decades of development, wind turbines are becoming larger and are advancing into offshore regions. In offshore sites with water depths of more than 50 meters, the Floating Wind Turbine (FWT) is thought to be technically and economically advantaged. Nowadays, the FWT is regarded as one of the most promising alternatives for the future exploitation of offshore wind resources. In this review, the coupling dynamics of FWTs are focused on, and the development of the FWT technology at home and abroad is reviewed. Then the research status of FWT coupling dynamics, as well as its optimization, is introduced and discussed. Finally, the significant difficulties and challenges in studying FWT coupling dynamics are concluded. This review can serve as a guideline for the research in the FWT community.
Abstract:
Hot corrosion fatigue is the key factor affecting the service life of hot section components due to combined effect of high temperature, mechanical load and salt spray atmosphere for gas turbine engines serving in coastal areas or marine environments. In this paper, the damage mechanism, life model and corrosion resistant design methods of low temperature hot corrosion fatigue are summarized and commented. Meanwhile, the research trend and direction in the future are put forward. Firstly, the hot corrosion fatigue failure cases and damage evolution mechanism of gas turbine engine hot section components are described. Next, the phenomenological model, damage mechanics model, fracture mechanics model and machine learning model of low temperature corrosion fatigue life were analyzed. Moreover, several representative segmented full-life corrosion fatigue models considering different stages of corrosion evolution are reviewed, and the development trend of full-life corrosion fatigue models is also put forward. Finally, the corrosion resistant design methods for gas turbine engine material selection, parts manufacturing, structural strength design and operation and maintenance are summarized. In addition, the hot corrosion fatigue in additive manufacturing and the application of nondestructive testing technology and artificial intelligence in hot corrosion fatigue research are also prospected.

Abstract:
In peridynamics, nonlocal integrals are proposed to calculate the node internal forces, and a unified mathematical framework is utilized to describe spatial continuity and discontinuity, which thus avoid the stress singularity caused by the local spatial derivative in the discontinuous region. Numerical peridynamic models have meshfree property, which is naturally capable of analyzing the fracture problems. In this paper, the elastic peridynamic model is briefly introduced, and the critical stretch, critical energy density, and strength-based peridynamic bond failure criteria are successively presented. Then, the research advances of peridynamics in the field of fracture mechanics are systematically introduced, including the computations of energy release rate and stress intensity factor, J integral, mixed-mode crack fracture, elastoplastic fracture, cohesive zone model, dynamic fracture, hybrid material interface fracture, and fatigue crack growth. Finally, the prospects for further research of peridynamics in fracture mechanics is provided.

Abstract:
Virtual Element Method (VEM) is a recently-developed numerical method suitable for arbitrarily convex or concave cells. This benefits the VEM to handle hanging nodes, contacts and polycrystalline deformations. We here illustrate the theory of the VEM via the Poisson equation and the elastic problem, and summarize its applications to non-linear problems. Compared to the Finite Element Method (FEM), the characteristics of the VEM are explained in details. The VEM has demonstrated potentials to model contacts, cracks, coupling of multiple physics, and etc. We hope that this review can provides an alternative means for software developers in computational mechanics.

Abstract:
Professor Huang Yushan was a famous scientist as well as educator in solid mechanics, aeronautics and astronautics in new China. He was enrolled at National Central University in 1931 when he was under 14 years old. He studied for a Ph.D. degree at Stanford University from 1939 to 1940 under the supervision of S. P. Timoshenko, a master in mechanics. As soon as he received his Ph.D. degree, he returned to his motherland without hesitation and was employed as a full professor at National Central University when he was no more than 23 years old. After the founding of New China, even facing to such problems as weak technical foundation, lack of talents and imperfect education system in aeronautics and astronautics engineering, he took infinite pains and devoted his whole life to development of science and technology as well as education. He was regarded as not only the founder of determination, extension of fatigue life and damage tolerance evaluation for in-service aircrafts as well as damage tolerance design for new aircraft, but also the pioneer of self-induced vibration in aeronautics and structural environment strength in astronautics. The article comprehensively overviews the major contributions of Prof. Huang in the area of solid mechanics and structural strength in aeronautics and astronautics, to memorize his firm spirit of serving the nation, rigorous and realistic attitude towards scholarship, courage to be a pioneer, visionary academic perspective, realistic and pragmatic educational thought.

Abstract:
Acoustic/elastic metasurfaces as a kind of two-dimensional metamaterials are of subwavelength thickness and show remarkable ability of acoustic/elastic wave manipulation. They have potential applications in various fields such as acoustic imaging, communications, cloaking, camouflage, vibration/noise control, energy harvesting, and nondestructive testing. In this review, we mainly summarize recent developments in acoustic/elastic phase gradient metasurfaces, including design principles, design of functional elements, wave field manipulation with applications, design of tunable metasurfaces, as well as the emerging digital coding metasurfaces. At last, we outline the future research directions in this field.